Xiaomi works with Line to release new Trolley Suitcase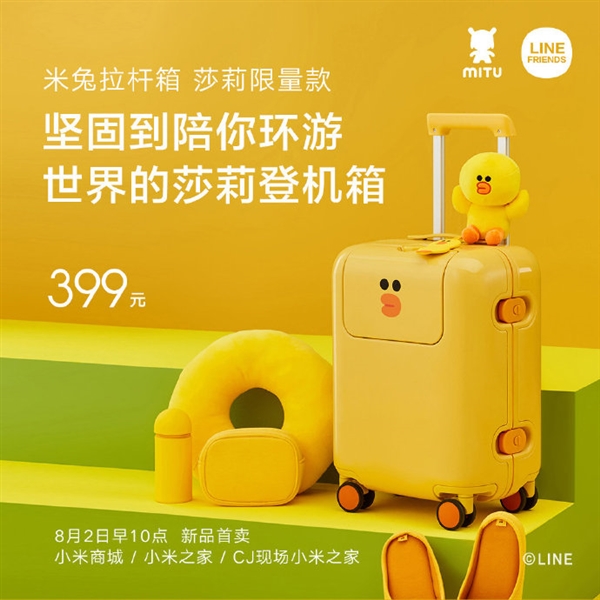 Xiaomi has unveiled a new product targeted at the kids. The Mi Bunny Trolley Suitcase Sally Limited Edition comes with an attractive colour but is actually a customised version of the Mi Bunny Trolley Suitcase first launched in September 2018.
Although all Xiaomi MITU-branded children toys have attractive colours, the suitcase adopts a yellow paint job because it is themed after the LINE mascot Sally Bird. The suitcase will go on sale on August 2 with a price tag of 399 yuan ($58).
The Mi Bunny Trolley Suitcase Sally Limited Edition is the product of a partnership between  Xiaomi and Line Corporation, a Japanese subsidiary of the South Korean internet search giant Naver Corporation. The brand is the owner of the anime character Sally, a duck featured in the anime series Line Town.
The yellow paint job that the suitcase utilizes on the outside is actually the colour of the Sally Bird character. The exterior of the suitcase is even designed to look like Sally. A drawing of Sally's face is on the body while the rollers adopt the same colour as Sally's little duck feet.
The suitcase has a 17-inch size and weighs just 2.9 kg. The trolley rods are made of German Bayer PC material, using the vacuum forming process. The trolley has a four-speed adjustable lever, in-line all-aluminium thickening lever for a smooth touch.
The inside of the trolley case provides three separate spaces for the underwear area, the outer garment area, the shoe area or the washing storage area, and each partition is provided with a separate zipper. In addition, it has a separate front opening storage area and an innovative circular rotary switch with a volume of approximately 6.5L.
Xiaomi added a tweak to the luggage which children will likely find attractive and that is the cartoon cute eye sticker which is pasted on the smooth surface of the box. The sticker is waterproof, flexible, can be pasted repeatedly and won't get torn easily. Even if the sticker is torn off, there won't be any mark left on the surface of the box.
The Mi Bunny Trolley Suitcase is available in pink, navy blue and white colours.