Huami launches the Amazfit GTR Smartwatch!
Huami has just launched the latest in their popular line of Amazfit smartwatches, the brand new Amazfit GTR. While the average Amazfit smartwatch is squarely aimed at the budget conscious market, the Amafit GTR is a clear step towards a more premium direction. It's obvious from the presentation alone that this isn't your typical Huami smartwatch.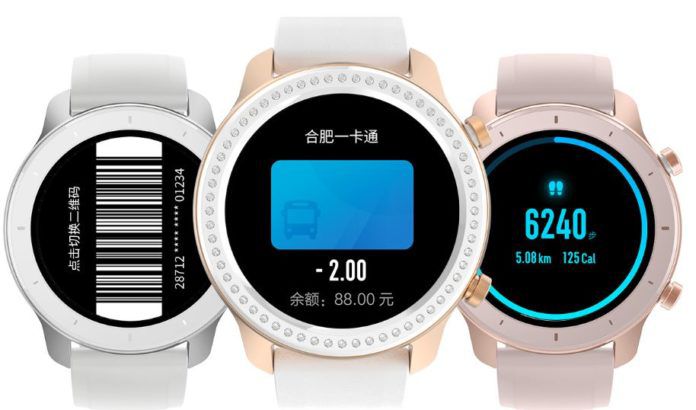 The Amazfit GTR comes in two different size options at 42mm and 47mm. While there are minute differences in terms of colour and dimensions, when it comes to specifications both models are identical. Regardless of which size you pick, your Amazfir GTR will have an AMOLED display with 326PPI pixel density and Corning Gorilla Glass 3 protection on top of it.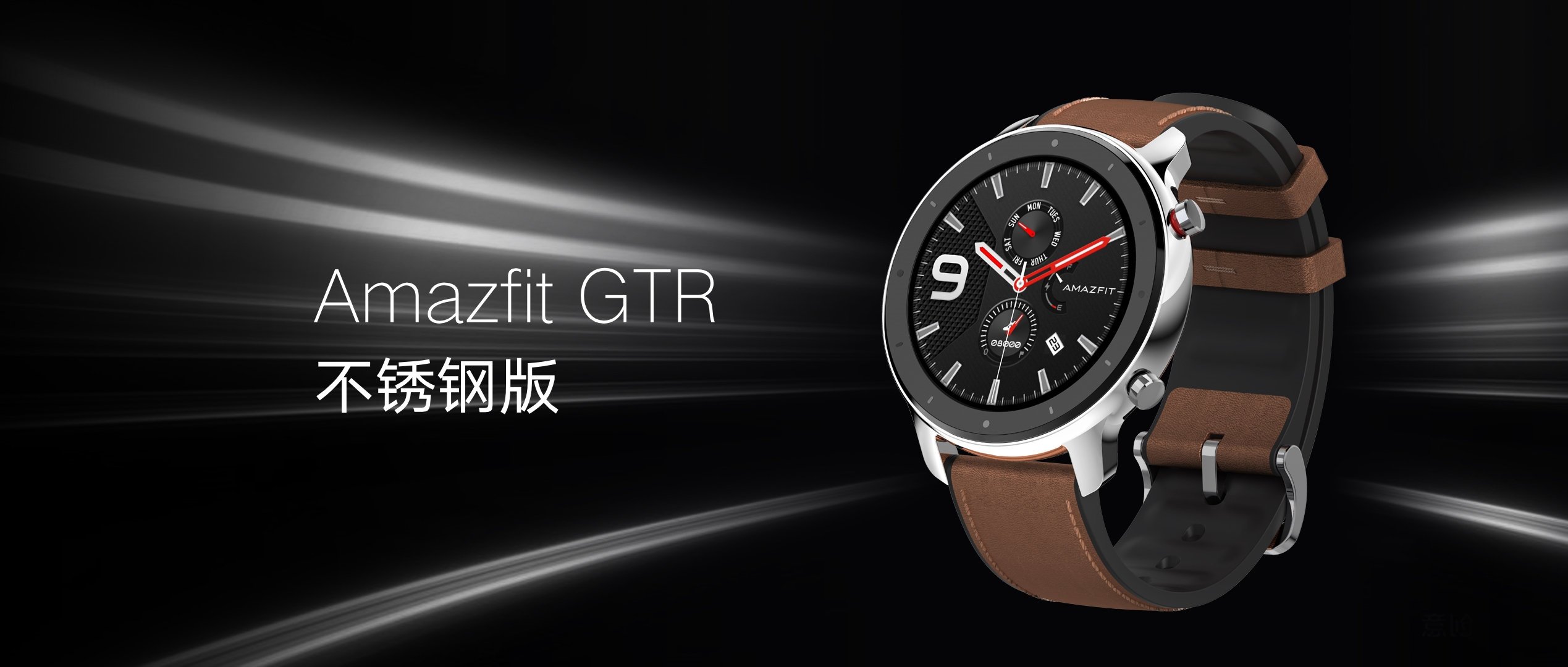 What sets the two sizes apart are colour options and dimensions, as well as the actual display resolution itself. The Amazfit GTR 42mm watch comes in four colour options, those being starry black, moonlight white, cherry powder, and coral red. This variant is slimmer and lighter. The body is about only about 9.2mm thick, and it weighs in at a dainty 25.5g. There's also a limited edition version of the 42mm that comes with 60 swarovski crystals.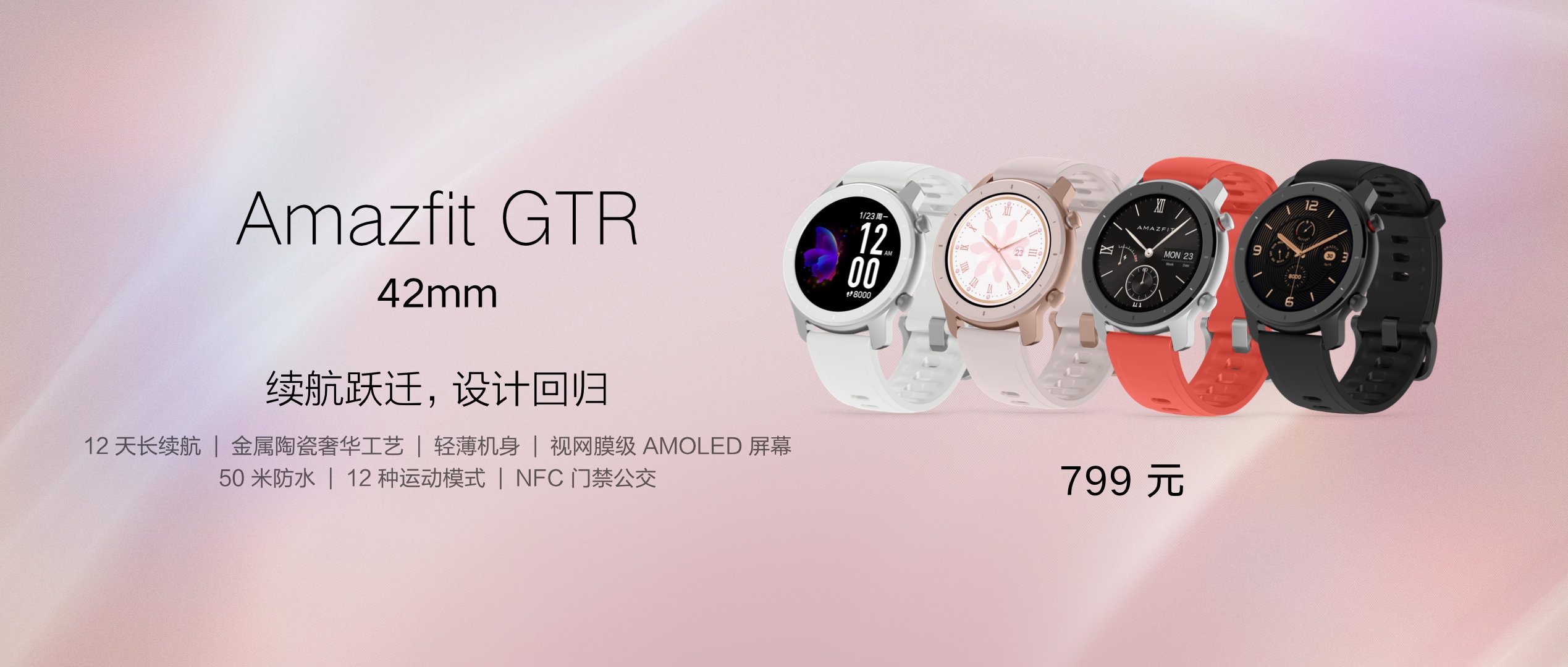 The Amazfit GTR 47mm, as you would expect, is slightly chunkier than the 42mm, but not by a significant amount. It comes in a bunch of more professional colours like aluminum, stainless steel, and titanium, but there's also a limited edition Iron Man edition unit here. Unlike the other options, the Iron Man edition Amazfit GTR has a red silicone strap instead.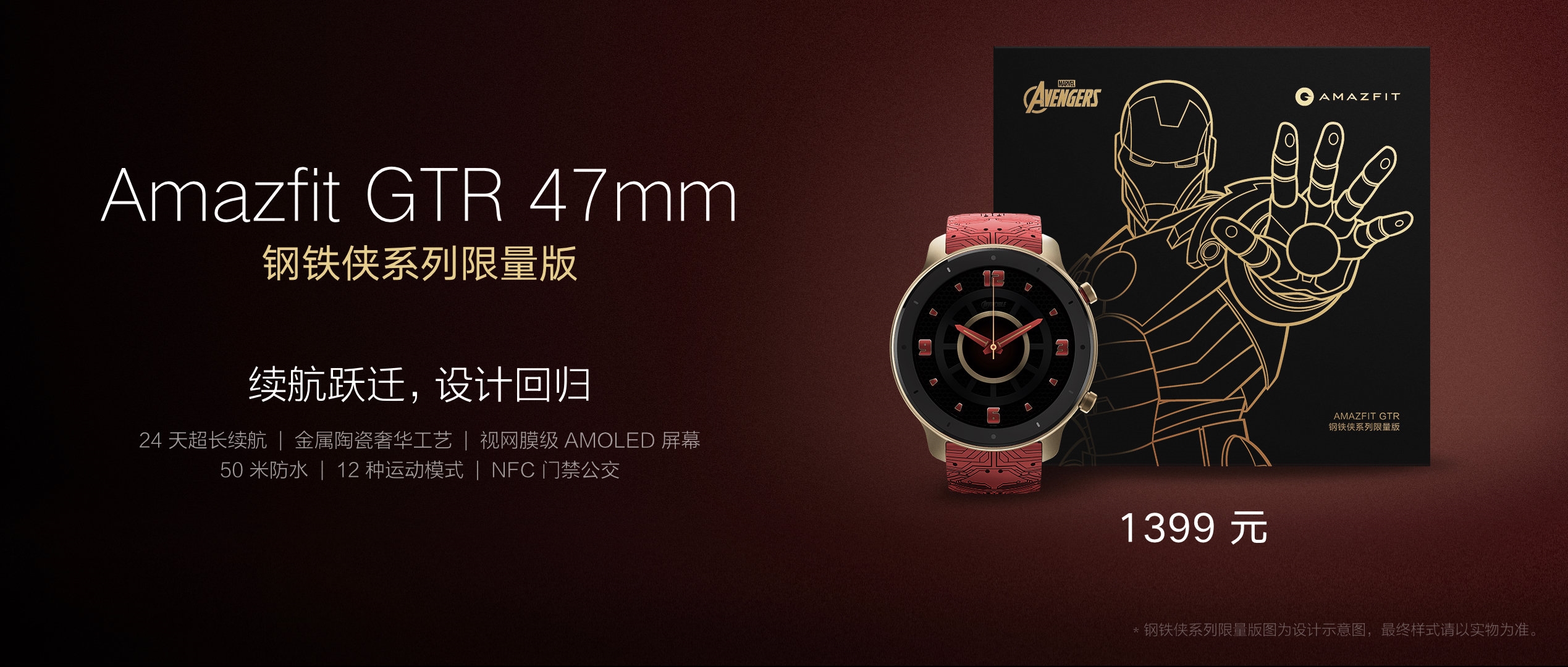 On top of the typical smartwatch features like showing notifications and issuing controls to your smartphone, the Amazfit GTR has a few more tricks up its sleeve. The device has BioTracker PPG bio-optical sensors to offer advanced heart rate monitoring and 12 different sports modes covering a wide range of activities from swimming to skiing. It's also water resistant to up to 50 meters with 5ATM certification, which is fantastic to hear.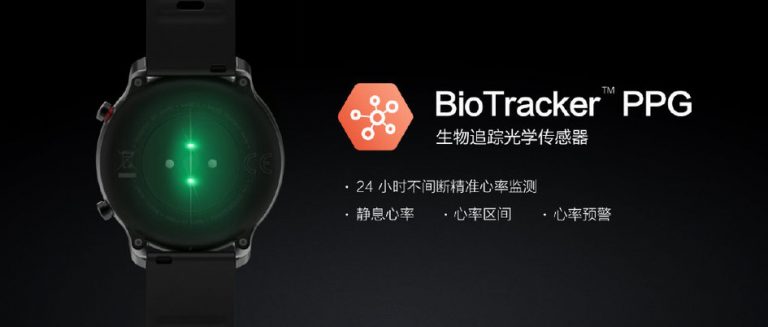 Amazfit GTR specifications
47mm — 1.39-inch (454 x 454 pixels) / 42mm — 1.2-inch ( 390 x 390 pixels) AMOLED display with Corning Gorilla Glass 3 protection, AF Coating
Supports Android 5.0 and above, iO S10.0 and above
BioTracker PPG Bio-Tracking Optical Sensor,6-Axis Accelerometer , 3 Axial Geomagnetic Sensor, Air Pressure Sensor, Capacitive Sensor, Ambient Light Brightness Sensor
Bluetooth 5.0 LE, NFC, GPS + GLONASS
Dimensions (47mm): 47.2 x 47.2 x 10.75 mm; Weight: 36g (aluminum alloy), 48g (stainless steel), 40g (titanium metal)
Dimensions (42mm): 42.6 x 42.6 x 9.2 mm mm; Weight: 25.5g
Water-resistant and dust-resistant (5ATM / 50 meters)
47mm — 410mAh LiPo battery with up to 24-days battery life with normal use, up to 74 days in basic watch mode
42mm —195mAh LiPo battery with up to 12-days battery life with normal use, up to 34 days in basic watch mode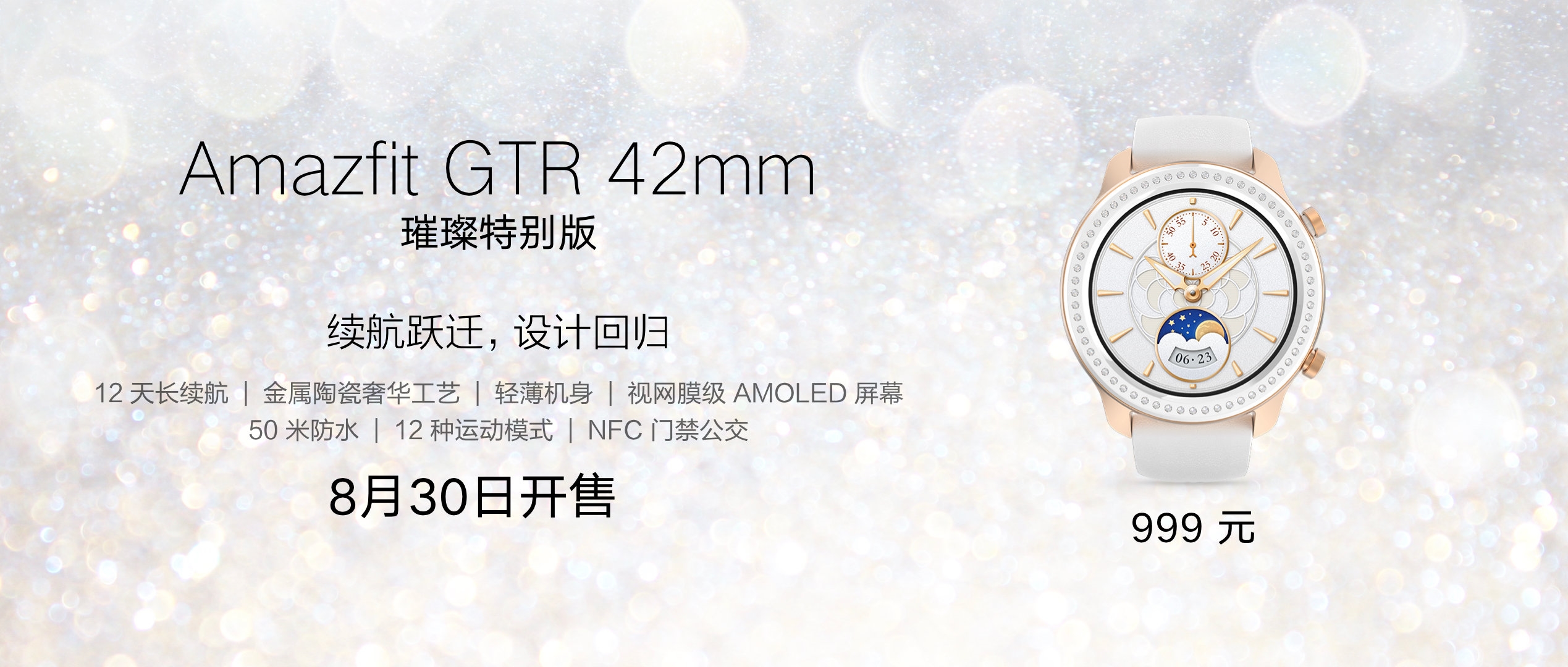 The standard variants of the Amazfit GTR 42mm is priced at 799 yuan ($116), while the limited edition swarovski model will go on sale for 999 yuan ($145). The Amazfit GTR 47mm aluminum alloy and stainless steel versions go for 999 yuan (US$ 145), while the titanium version and Iron Man special edition are priced at 1399 yuan (US$ 203). All of these are available for order starting today in China.
(Source)